DIY Easy Satin Ribbon Flower Bow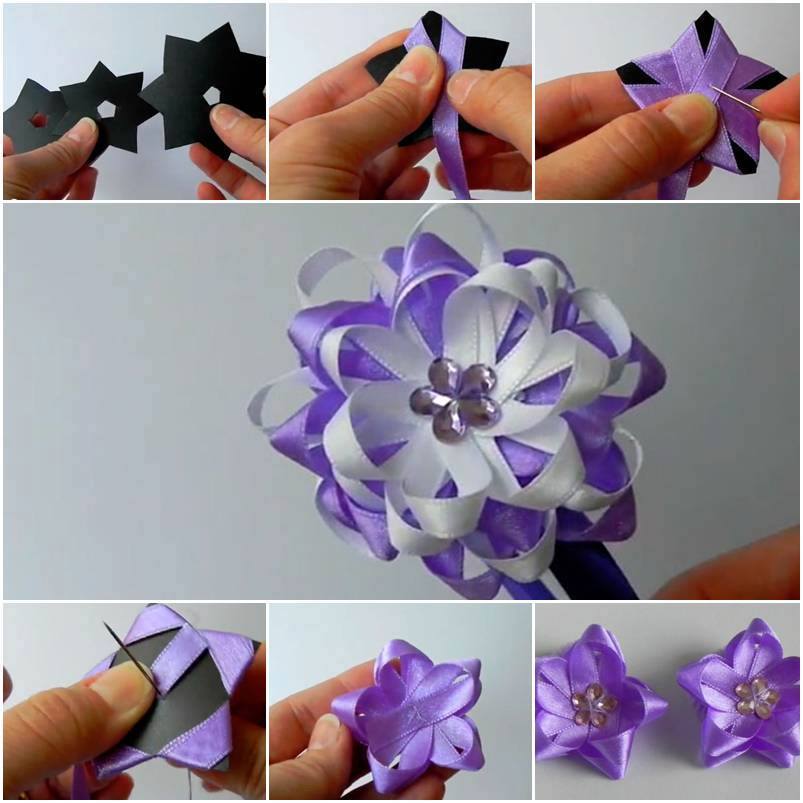 Wondering how to make a beautiful ribbon flower easily? It's often easier to do that with a little device. For example, you can tie a tiny ribbon bow easily with the help of a fork. If you want to tie a more complicated ribbon flower bow, you can use a piece of template, as shown in this tutorial. Here is a nice DIY project to make an easy satin ribbon flower bow. It looks very pretty! You may try different colors of satin ribbon to make it. Now you don't have excuse that you don't know how to make a beautiful ribbon bow. It's great for gift packaging or other crafts and fashion projects. Let's try it!
What you need:
Satin ribbon with colors of your choices;

Template made with cardboard or

card stock

paper;

Needle and thread;

Beads;

Scissors.
How to do:
Cut out the template on a piece of cardboard in the star shape as shown in the pictures.

Make a hole in the middle of the template.

Wrap the satin ribbon around the template.

Sew the end of the ribbon in the middle of the template to

secure

.

If you want more layers for the ribbon flower, just wrap more rounds of ribbon.

Carefully take out the template from the ribbon flower.

Sew beads and other

ornaments

in the middle of the ribbon flower bow. Enjoy!